MEET THE TEAM
Scyther Spotlight: Robert McCutcheon
A day in the life of a Mechanical Engineer at Scythe
---
Building a robot from scratch is no easy feat, but Robert McCutcheon is up for the challenge. As one of our talented mechanical engineers, Robert helps to design and build each new generation of M.52.
Robert knows the importance of clear communication across the company and with our customers. By staying in constant contact with our team and those in the field, he ensures that we are delivering cutting-edge technology that is not only innovative but also reliable and safe to use.
What does a typical day at Scythe look like for you?
No two days at Scythe are the same for me. It's crucial to be nimble and able to roll with the punches as my days are highly varied. Any day may involve detailed design work, field team calls, vendor discussions, cross functional collaboration amongst our internal teams, site visits, project planning, and more. This variation is what makes working at Scythe exciting! Any one person can contribute to mechanical, electrical, software or testing design decisions.
What is a project you're working on right now?
Right now, my primary focus is the mechanical development of the 5th generation of M.52. This generation mirrors the growth of the company thus far – it's more robust, capable, tested, smarter and refined. We will involve more rigorous testing and manufacturing critique to help mold and shape M.52 into a more optimal machine.

Contributing to the product development process is what brings me joy here at Scythe – being part of the development of a little nugget of an idea and enabling its growth into a refined tool that is mass produced and used by people everyday is a great experience.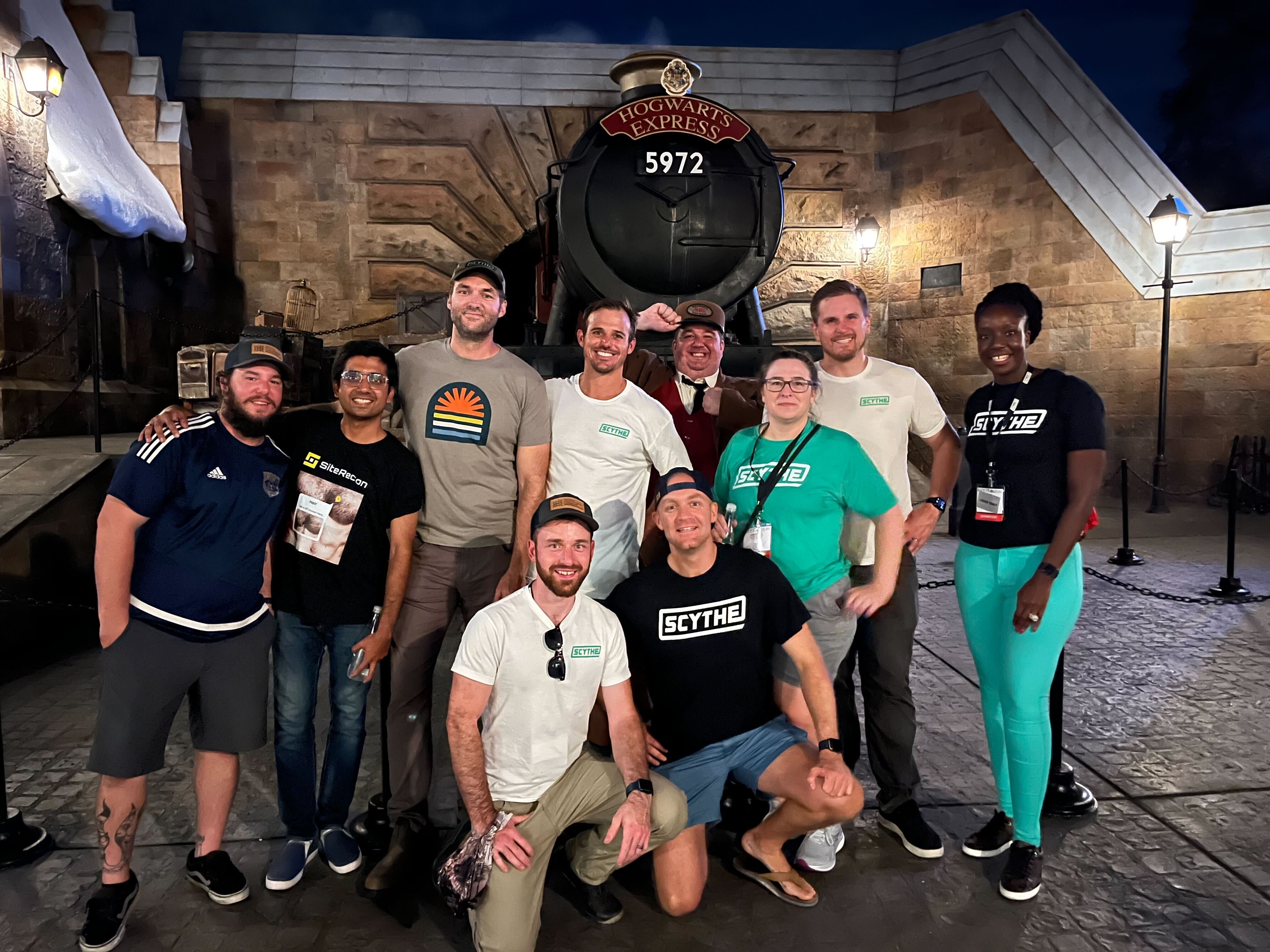 Rob and fellow Scythers at the 2022 Elevate Conference Bash.
What does Scythe's mission mean to you?
Scythe's mission is to "provide the most advanced and sustainable autonomous technology for maintaining off-road environments safely, effectively, and responsibly." In order to achieve this mission, we have to look at every feature and specification of our product through a different lens than most OEMs.
We have to evaluate and optimize our structures, hardware, designs, and systems to be as robust and efficient as possible so that we can change what the customer expects in terms of durability, life, and safety of landscaping products. We do this by leveraging various simulation technologies and stringent testing methods to ensure that we can extend the lifespan of our product, its runtime, and improve the safety to the highest degree.
What was the journey you took to get to Scythe?
Designing commercial landscaping equipment is not what I thought I'd be doing when I got my degree in Mechanical Engineering. Growing up in Maryland, I thought I would likely get a job with a government agency or defense contractor, as they are huge employers in the area. I interned with the DoD one summer and quickly found that I would suffocate in large bureaucratic institutions, so I started looking elsewhere.
Not planning on moving out of the area at the time, I happened to meet some folks from Wright Manufacturing and found that they had some engineering openings. I applied, got the job, and I worked there for about 9 years. During my time there, I developed seven products and countless manufacturing tools and fixtures. Two days after my daughter was born, Scythe approached me about this autonomous lawn mower idea they had. I took the bait, saw some motor controllers blow up, moved across the country, and the rest is history.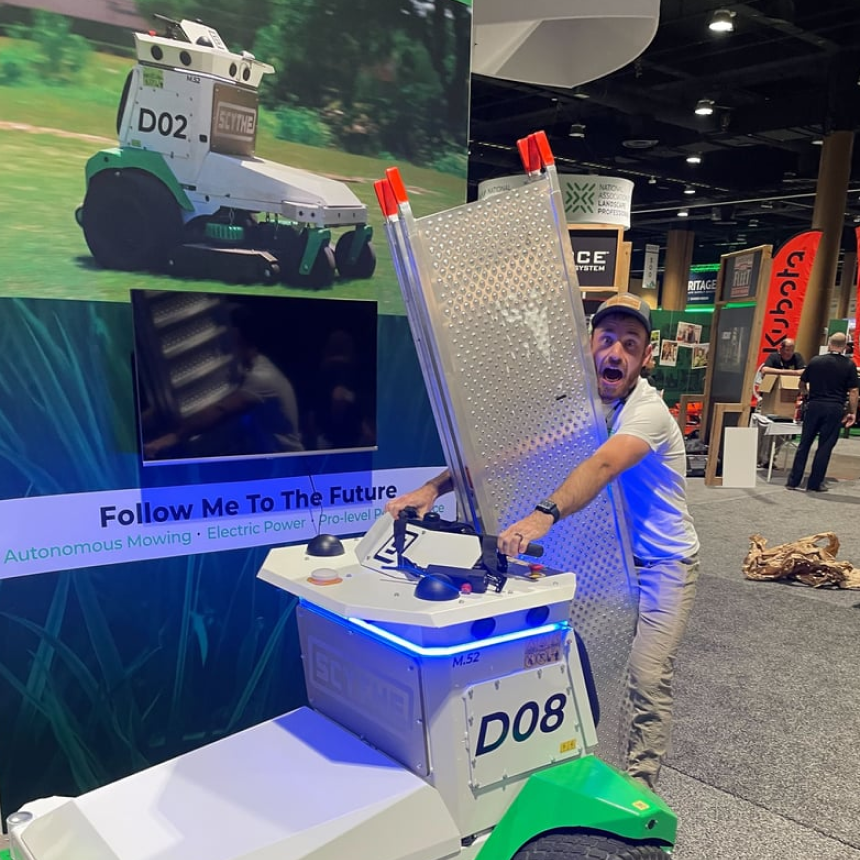 What's the best career advice you've received?
Perfection is the enemy of progress. The development of any idea is a messy and difficult process. If you believe you have the perfect solution, you are going to be disappointed. Embrace failure.
---
Offering a snapshot of life at Scythe, the Scyther Spotlight series showcases our team members and the work they do as we pursue our mission together. From software to hardware, manufacuring to customer operations, you'll get to see what our multi-disciplinary team members are up to and how they collaborate every day.