MEET THE TEAM
Scyther Spotlight: Amy Domino
A day in the life of an Electrical Engineer at Scythe
---
Gestalt is a core value at Scythe, and electrical engineer Amy Domino lives it out day after day. Since she designs and builds the electrical components that power every element of M.52, from the electric motors and sensor systems to the battery stack and beyond, Amy continuously collaborates with team members from across the organization.
Tell us about a project you're working on right now.
I am currently working on a project where we are redesigning our entire operator interface. This includes any way the user interacts with the mower via the LCD, buttons, hand controls, etc. Although M.52 is an autonomous mower, it is unique in that a user can still drive it like a stand-on mower.
I enjoy cross functional projects like this that include collaboration between our mechanical, electrical, firmware, and field operations teams. There are many fun challenges including designing a board to drive a bigger, higher resolution display, creating an intuitive display interface, and designing ergonomic hand controls for a smooth user experience.
What three words or phrases describe what it's like working at Scythe?
Energetic - There is a lively energy in the office (and on Slack), from music on the manufacturing floor to constant laughter / emojis and robots whizzing around.

Fail Fast - We move at a fast pace and are encouraged to try new things. If it doesn't work out, we course correct and learn from it.

Autonomy - Not for autonomous robots, but for autonomous people. We are treated as grown adults (because we are) and trusted to make the best decisions for the company. There is so much to do and we are encouraged to jump in and make an impact wherever we can.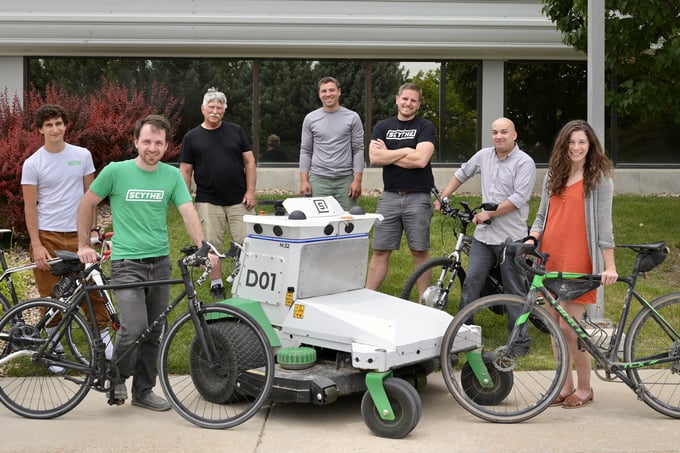 Amy and fellow Scythers on Bike To Work Day 2022
Which of Scythe's values means the most to you?
The Scythe value of Gestalt means the most to me. Gestalt is the idea that an organized whole is more than the sum of its parts. Not only do we need to rely on one another's talents and perspectives to reach our lofty goals, but we understand that it makes us better when we do. Working with a team that collaborates well and can let go of ego is so important to me, and I am glad this is a big focus at Scythe.
How did you end up getting into electrical engineering at Scythe?
I love this question! My journey that led me to Scythe was a bit unique. I graduated with my BSEE and worked as both a Product Marketing Engineer and Field Applications Engineer at Texas Instruments. I wanted to dig deeper into full product design, so I moved to Colorado and started working at Syncroness (now Alten USA), a technology consulting firm, where I gained exposure to product development.
However, I still wanted to own a product from start to finish, to be involved in every piece of the process from designing it, building it, testing it, and manufacturing it. This desire led me to Scythe, where I get to spend my days designing a product that I really care about, grow as an engineer, and work alongside some rad individuals.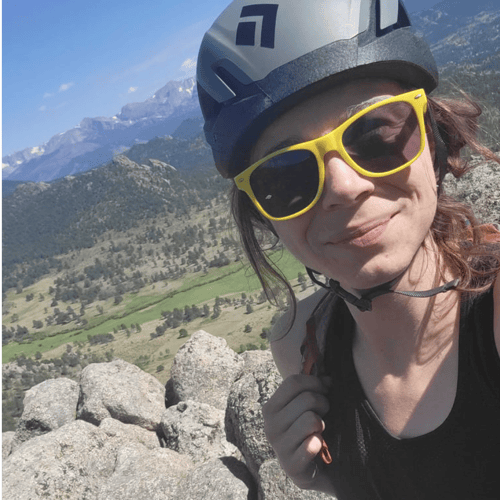 Who is your favorite fictional robot?
My favorite fictional robot is Baymax from Big Hero 6. This is probably my favorite Disney cartoon, which was originally a Marvel comic series. The story takes place in San Fransokyo, and follows a high school graduate, Hiro Hamada, and Baymax.
Baymax is a prototype healthcare companion robot whose sole purpose is to take care of people. He looks more like a marshmallow than a robot. Sometimes it feels like technology and humanity/our planet are at odds, and Baymax is a good example of technology making the world a better place.
What's your favorite office snack?
Strawberry popsicles. Nothing better than a popsicle on a hot summer day!
---
Offering a snapshot of life at Scythe, the Scyther Spotlight series showcases our team members and the work they do as we pursue our mission together. From software to hardware, manufacuring to customer operations, you'll get to see what our multi-disciplinary team members are up to and how they collaborate every day.