EVENTS
3 Things You Missed from Scythe at Conferences this Season
Here's a recap in case you missed the trade shows
---
Three Conferences. Three Months. Three Things.
Over the past three months, we exhibited at three of the largest and most exciting trade shows in the landscape industry: the Lawn & Landscape Tech Conference in Las Vegas, ELEVATE by NALP in Dallas, and Equip Expo in Louisville, KY.
Didn't get to meet up with us at any of these events? Don't you worry – here's a recap of three things you missed that will get you up to speed.
Tour the Scythe booth in 45 seconds
1. Scythe Product Demos
At these conferences, folks got hands-on with M.52 as we demoed the mower's features in real life. Watching videos of people watching M.52 isn't quite the same, but it's a good enough option for now. You'll get the gist.
Mowing Simulation Challenge
How fast can you mow with M.52? That's the challenge we presented to the competitive participants who drove the robot through a virtual mowing simulation. The objective: collect as many tokens as possible in 90 seconds while encountering familiar obstacles and mastering M.52's new bar-style controls.
Actual conference mowing simulation footage
We run over 450 simulations like this every night to ensure product stability and improve mower efficiency – and we're always adding more. In addition to real-world testing in the field, these simulations help us test and improve the performance of the mower. We construct different mowing challenges to show M.52 more obstacles, train it on what to do when it encounters them, and teach it to calculate the most efficient mowing path around them.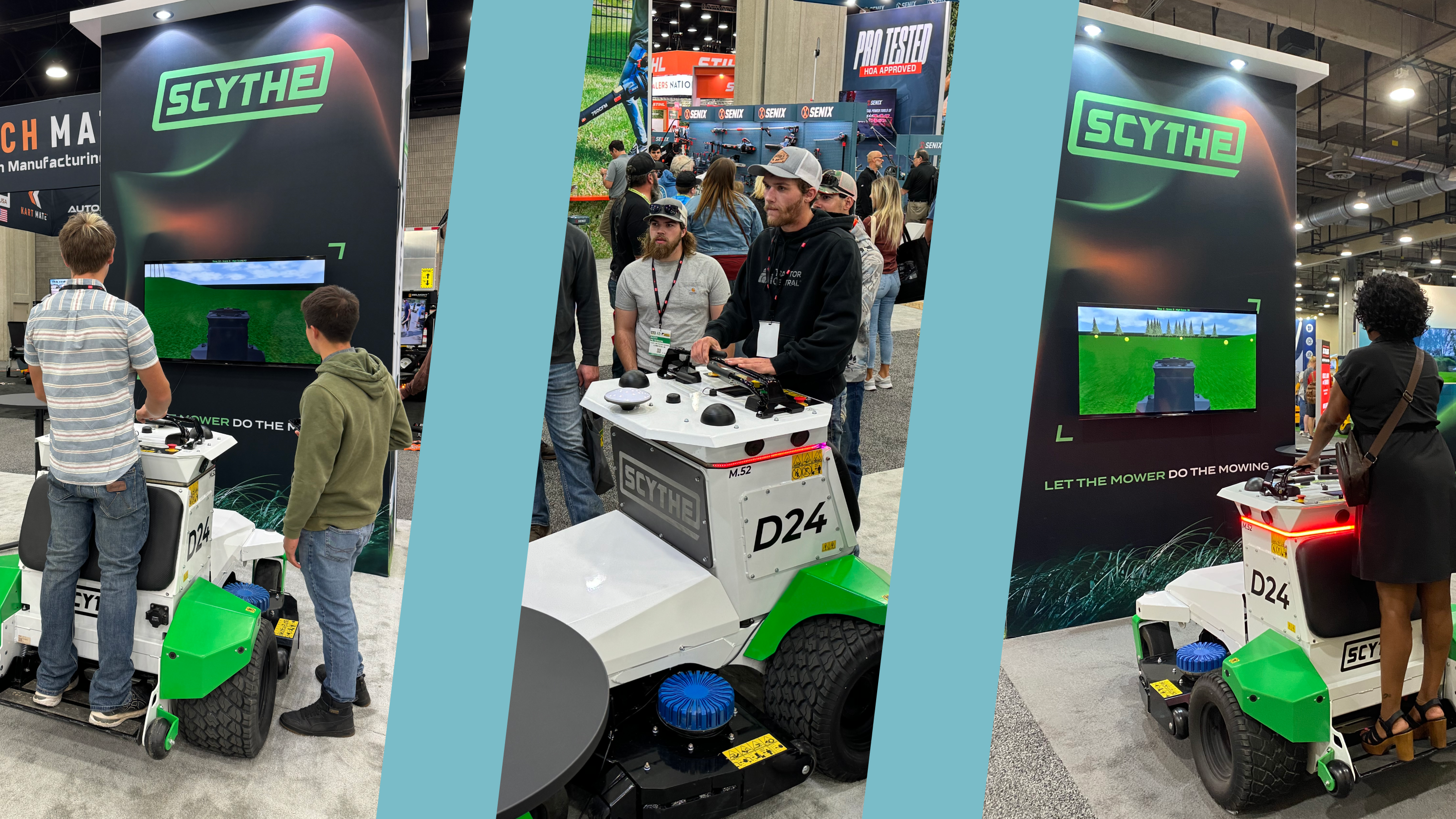 Aside from the few who accidentally drove the mower in the pond (like, how?), everyone did an impressive job in this challenge. Well done, all! M.52's new bar-style controls are more comfortable and intuitive, leading to higher and higher high scores. The overall winner asked to remain anonymous (he doesn't want his head to get big) so he won't receive the fame he's due, but he did receive a free poster.
Autonomous Mowing Demo
The outdoor demo area at Equip Expo gives attendees the chance to ride skid steers, slice logs with chainsaws, and jump on an actual excavator. But the most exciting thing is to watch M.52 endlessly mow the same patch of grass in a small hay bale box. But really, it is! Have you ever seen stripes so perfectly executed for three days straight? We didn't think so!
M.52 autonomously mowed almost 1 million square feet over the course of the expo. That timelapse shows it completing one task in our demo area. M.52 successfully did that 298 times (!), but we'll spare you from the full feature-length film. And before you troll our post with comments saying, "BuT loOk at THe dAmaGe iT's dOinG" – that number represents seven seasons of mowing, which understandably leaves ruts when it's all done in the exact same pattern in just three days.
2. The latest updates
If you missed the conferences, you might not be in the know about the latest happenings at Scythe. But whew – good thing you're here to catch up now! Because there's a lot going on.
Next-Gen M.52
To an exclusive group of booth visitors, as well as basically anyone else who asked, we revealed details about the next generation of M.52, which is currently in production and set to hit the turf in early 2024.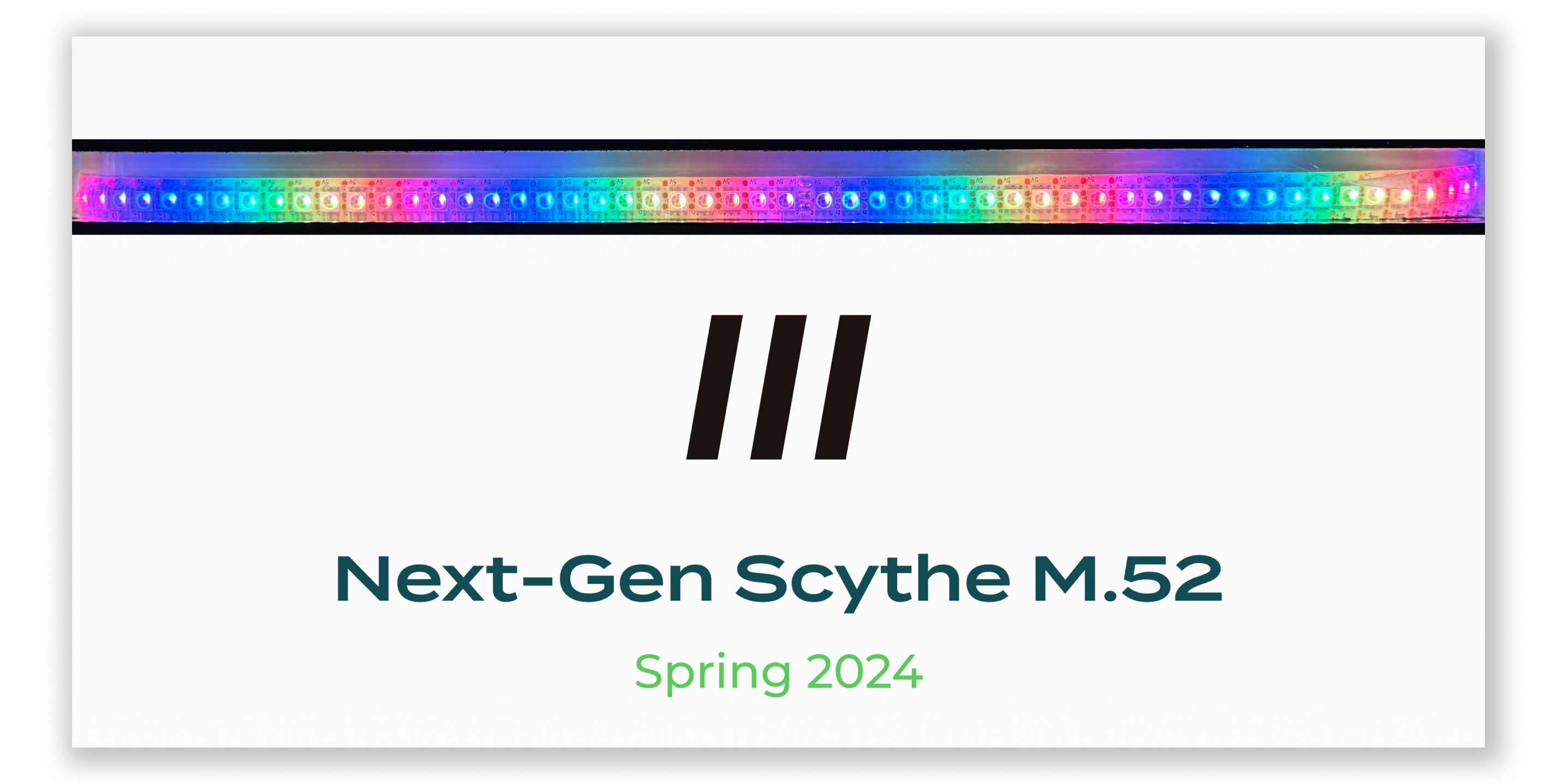 We could go on for pages about all the improvements in this evolution of M.52, but in sticking to our theme of 3s, here's a shorter list:
Range anxiety be gone: the next generation of M.52 packs an additional 25% battery capacity, confidently giving you a full day of mow time
Easier in every way: in addition to the new bar-style controls, a totally redesigned control panel features a large touchscreen display that seriously improves how you use the machine

Harder / better / faster / stronger:

a wide range of mechanical improvements and structural upgrades increase the durability and performance of M.52, ensuring it can stand up to the demands of commercial landscaping
2024 Robot Deployments
Conferences give us a great chance to answer the most burning question our partners ask: WHEN ARE WE GETTING ROBOTS?? You likely have the same question if you are on our reservations list, so we'll give you the same answer here:
We're building robots as fast as we can. For the 2024 mowing season, we are expanding our deployments in regions where Scythe operations are already in place – Florida, Texas, and Colorado. We're rolling out with many more partners in each state, which is exciting progress that will enable us to put the finishing touches on M.52 and scale production in 2025 and beyond. We appreciate your patience and will be in touch with the things you can do to get ready for robots.
We'd then give you a high-five and free poster. Since you missed the chance, download a sweet digital version of the latter here. The high-five will have to wait.
3. Meeting new team members
Lastly, conferences give brand fans the chance to meet new Scythers, of which there are MANY. Three in particular who will be good for you to know were at these trade shows, so let me introduce you to them now.

Micheal Mayberry is our new director of customer success. Rising from the field to executive leadership over the course of his decades-long career in the industry, he knows a thing or two about leveraging technology to drive business results.
Emil Motycka joined us this year as a senior product manager. Mowing lawns from an early age, Motycka built a sizable local landscaping business throughout high school and college. This experience in the field launched him into a career in Green Industry innovation.
Heather Raich recently stepped in as our new account executive – and thank goodness she's here. With years of experience bringing meaningful technology to service industries, she'll be keeping our partners updated on the progress of their reservations and getting new partners signed up for robots.
Conference Season: Wrapped.
And with that, you're all caught up! Those are the most important things we shared at the landscape trade shows over the past few months. You can basically say you were there (we won't tell anyone you weren't).
We're still recovering from our post-conference coma, but planning for 2024 is legitimately already underway. So where will we see you??! Keep an eye out for our event details to catch up with us live and get that poster in person.