GET READY FOR ROBOTS
Using Technology to Attract Top Talent
How landscape businesses can recruit people who have a passion for the outdoors and an interest in innovation
---
Nature or technology? Now you don't have to choose!
Entrepreneurs and their employees are often drawn to the landscape industry by their love for the outdoors. They are passionate about cultivating green spaces, making their communities more vibrant, and improving the health of their clients' natural environments. But in addition to attracting outdoor enthusiasts, fast-moving industry trends are also catching the attention of potential employees interested in an entirely different field: technology.
Until recently, those passionate about technology have had to look elsewhere for career opportunities. But innovation in the green industry – from electric and robotic mowers like Scythe M.52 to business operations software and beyond – is transforming the way landscapes are maintained. In doing so, this innovation is also transforming what it's like to work in the landscape industry, and those looking for jobs are taking note.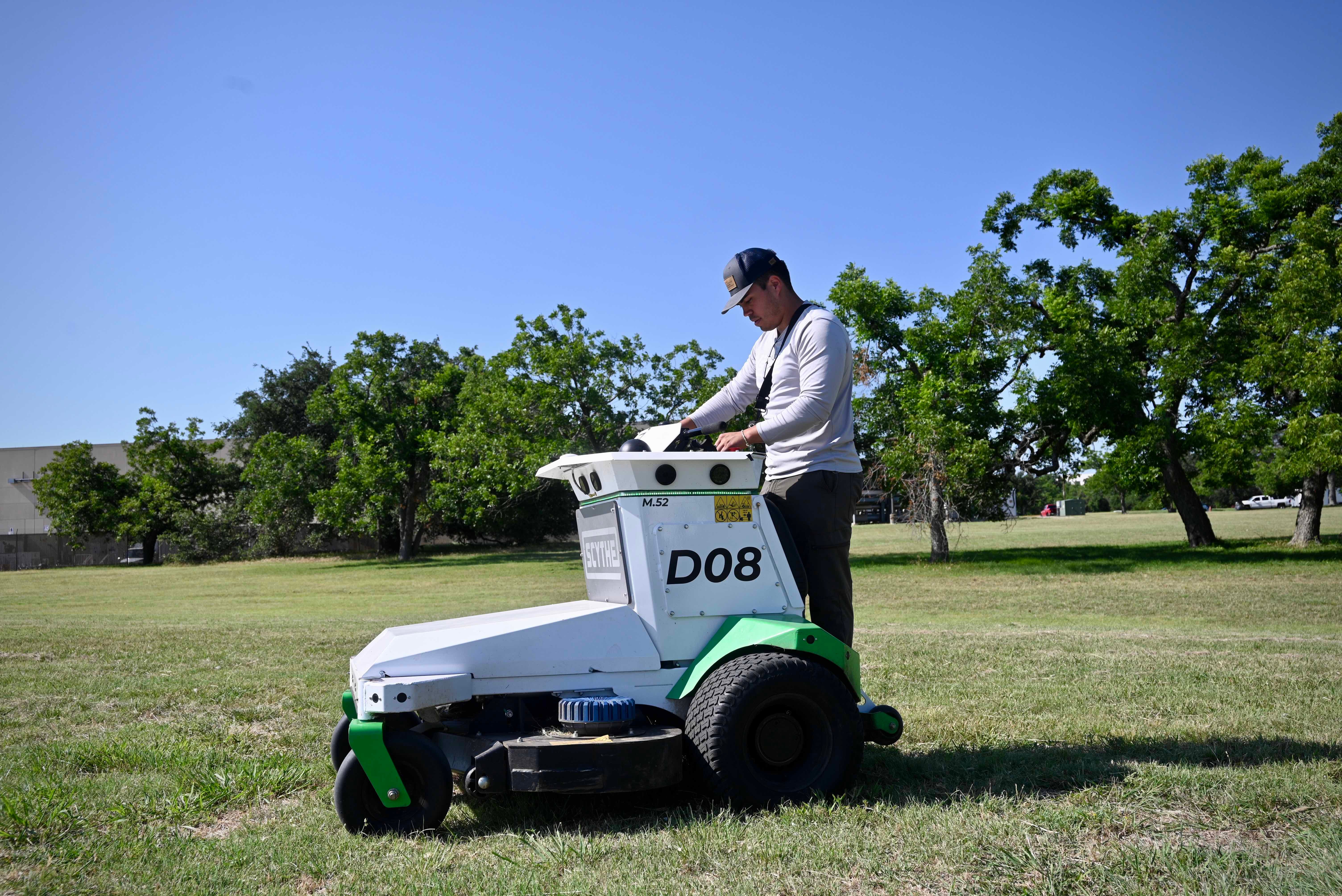 How to talk tech in your recruiting pitches
With contractors across the industry competing for talent, it's critical to make your business stand out to potential team members. Advanced technologies like robots are inspiring younger generations to consider careers in landscaping, but they are attractive to today's workers as well.
Almost half of the respondents in the 2023 Lawn & Landscape Tech Report said investments in technology helped them recruit and retain employees. Similarly, in an article discussing the potential for enticing tech workers to the green industry, HR consultant Erin Barr asserts that "highlighting the strides the industry is making toward becoming more tech-driven and innovative would interest many candidates."
Integrating robotics into your operations isn't about replacing employees, and it's important to communicate that to potential new team members. Frame technology as a tool that makes their jobs easier and helps them be more productive.
To pitch prospects on working for your company, talk about how your use of technology like Scythe M.52 improves their overall employee experience, advances their skills, and creates new career opportunities for them.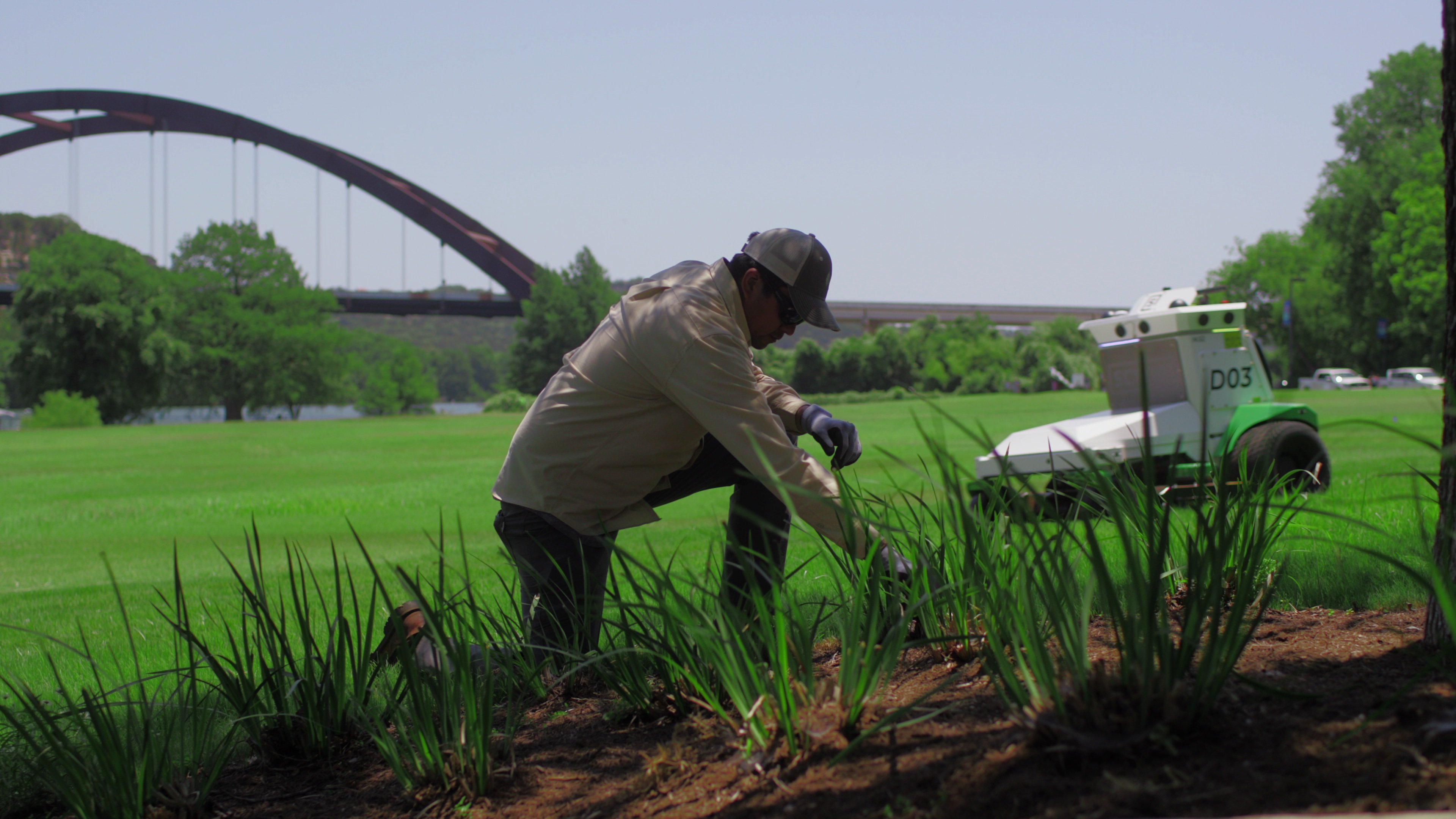 Technology improves the employee experience
Let's face it – mowing is mundane. But with M.52 taking care of it, landscape crews get to do the more interesting and less physically demanding tasks instead. And M.52 helps them wrap up the work more quickly and get moving to the next jobsite. Talk about attractive!
As an electric mower, M.52 also creates a safer, more comfortable work environment for crews. Gone are the noxious emissions of gas-powered machines that present a range of health risks. M.52 is significantly quieter, too. Sustained exposure to noises above 85 decibels (like the sound of a gas-powered mower) can cause hearing loss, so switching to cutting-edge electric equipment can further protect your crew.
M.52 allows crews to work more efficiently and to a higher degree of quality, which any strong candidate will want to do. They are able to focus on higher-value, more rewarding tasks that make a difference in the health of the plants and the beauty of the green space, resulting in more meaningful work.
This also drives greater profitability for the company, something top-performing crews will take pride in contributing to. Further, this increase in both value-add services and overall profitability can lead to higher wages than just mindless mowing, which any prospect will be drawn to.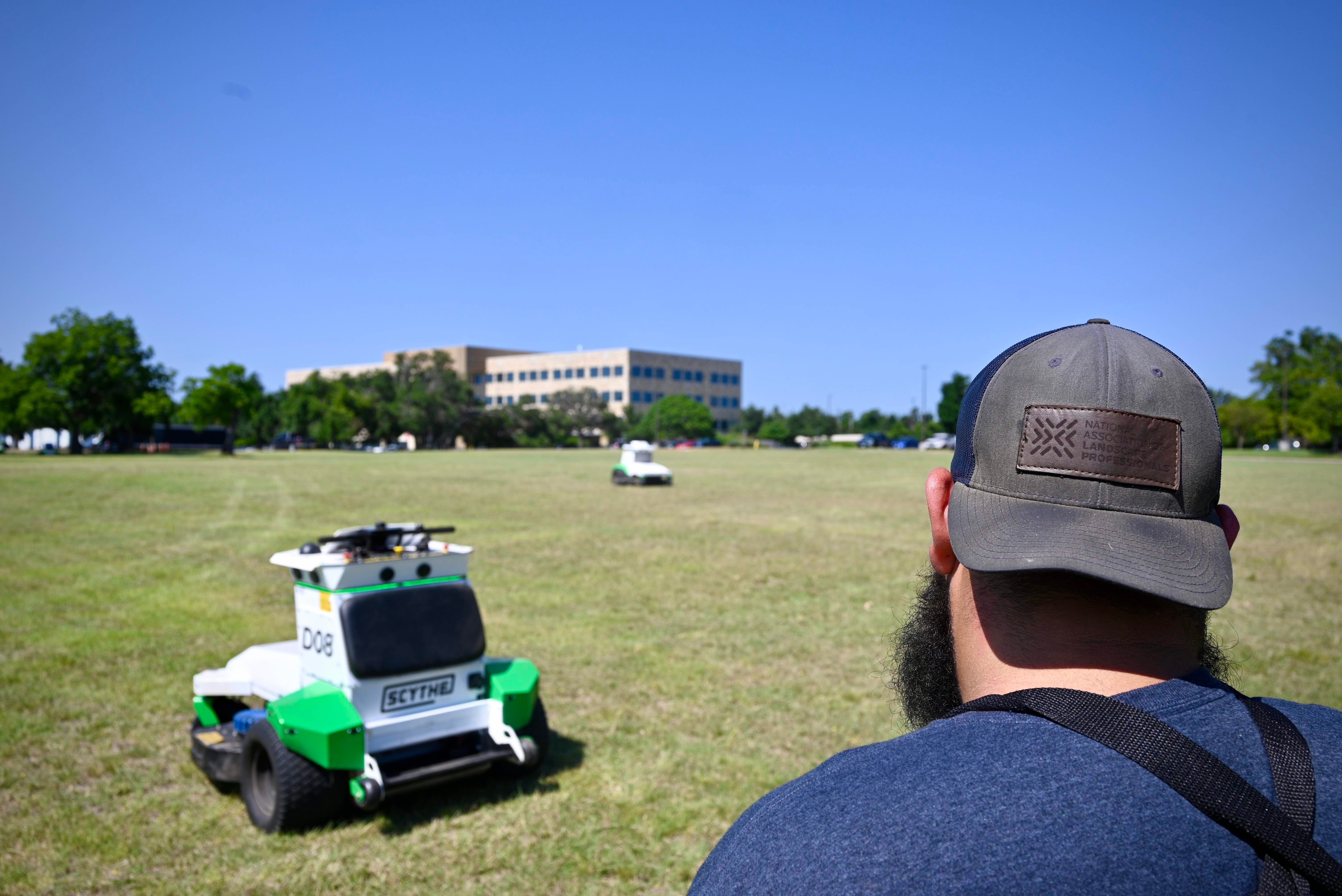 Technology advances employee skill sets
Forget managing a mower. M.52 allows crew members to level up by optimizing their operations on site. They go from simply cutting grass to adjusting workflows across the property. They get to problem solve and strategize as they make the most of the technology on hand. For potential employees looking to grow their management and production skills, companies already rolling out robots will certainly catch their eye.
Working with robotics also gives employees experience with highly relevant, cutting edge tools. They will get exposure to smart machines, big data, and AI. While these fields are growing quickly, there are not many places today for workers to get this level of engagement with such advanced technology. Green industry innovation is leading the charge – an exciting selling point for potential employees!
For some, though, technology can be intimidating. Assure potential employees that comprehensive training and support will be provided to help them effectively use and leverage these tools. Emphasize available resources – like the online tutorials, user manuals, and dedicated support teams Scythe provides – as additional training they'll receive to advance their skills. This can alleviate concerns about the learning curve and show that you value their success with the technology.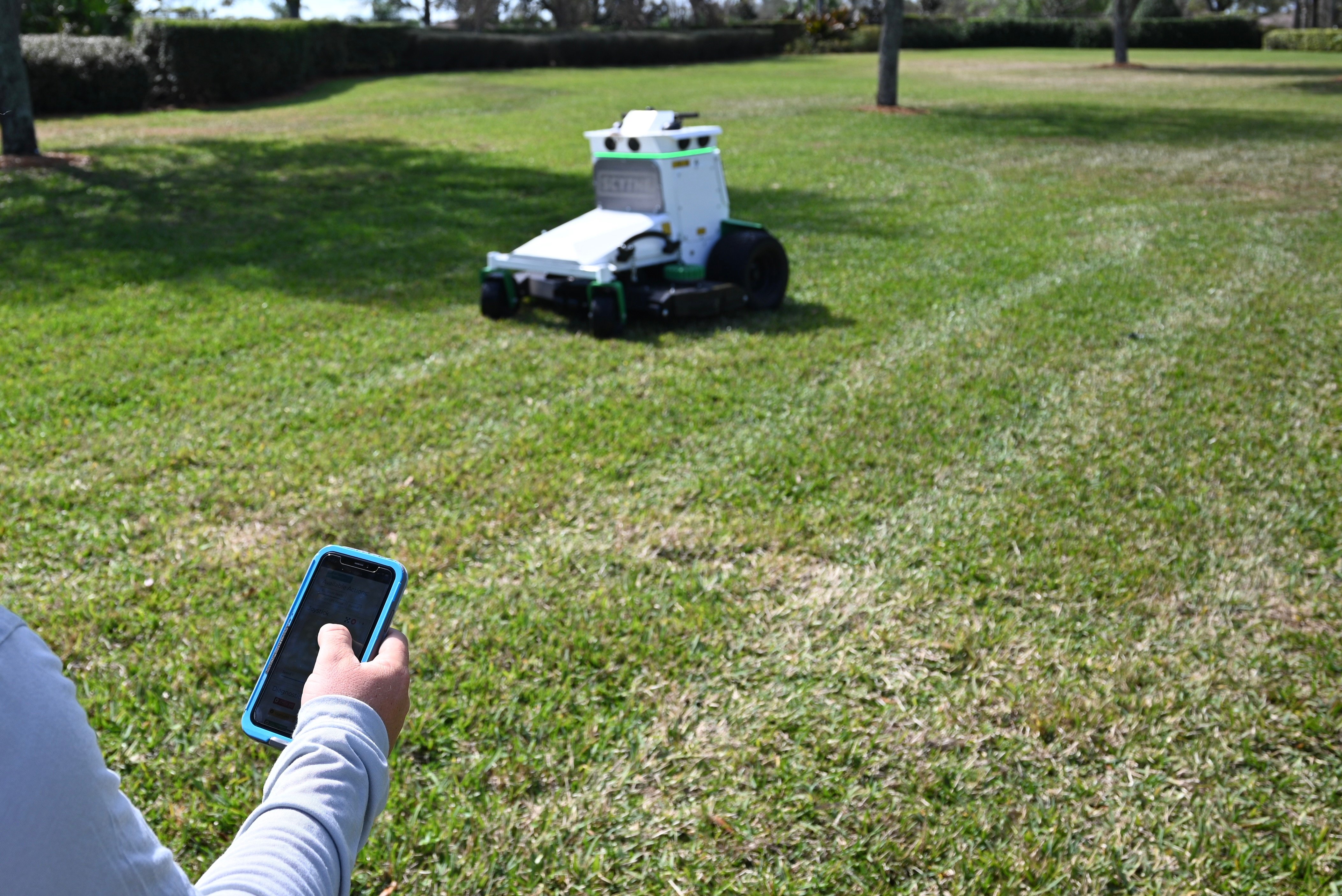 Technology creates new career opportunities
Attracting talent is one thing. Retaining talent is even more critical. But in the same way you want to hire team members that will stick around, employees are attracted to organizations where they have reasons to do so. In talking to potential employees, you can demonstrate the career opportunities that robotic mowers and other technologies create.
Empowered by data and in-field experience with M.52, workers can more quickly develop the skills they need to advance into supervisor and management roles. There are also the positions that don't yet exist in most landscape companies but will be commonplace in the future – data managers, IT directors, robot technicians, and even CTOs. By investing in your people to fill the evolving technological needs of your organization, you are not only creating new career opportunities for your team but also building a more attractive organization for prospective employees.
New career opportunities are more likely to result from an innovative organization than a traditional business, and prospects interested in tech-forward teams will recognize this. Trying out new technologies requires exploring ideas, collaborating across the organization, and establishing processes where there are none today. While daunting to some, this type of work can create compelling experiences and meaningful careers for those committed to a forward-thinking culture.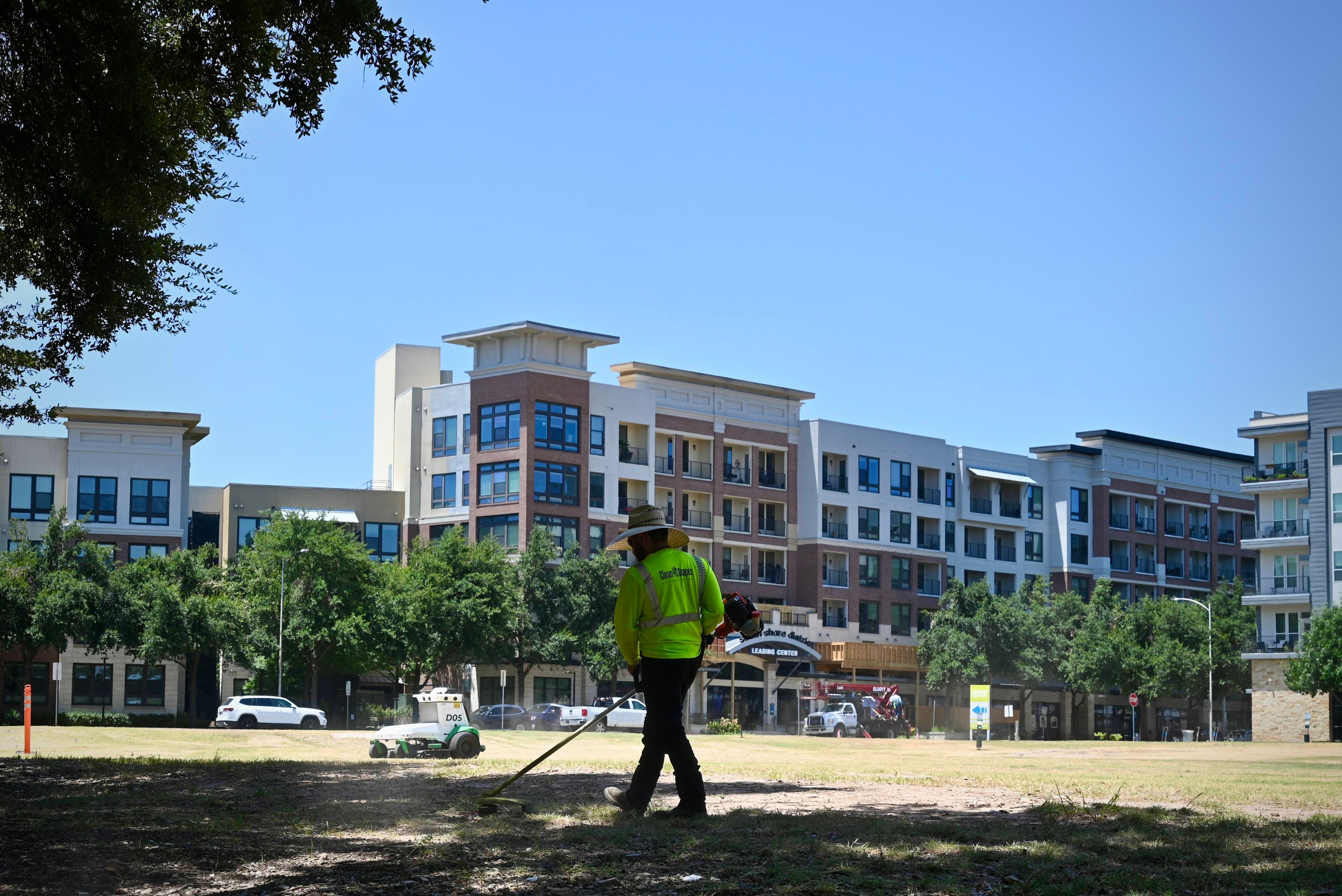 Innovating for the Outdoors
At first glance, it might seem like nature and technology are at odds. But at Scythe, and as illustrated here, we see immense opportunity to leverage technology to better care for our green spaces and advance the careers of those cultivating them.
Employees no longer have to choose between pursuing their passion for the outdoors and their interest in innovation. By demonstrating your commitment to both with tools like M.52, you can attract and engage the types of talented individuals who drive your organization forward.