MEET THE TEAM
Scyther Spotlight: Vicente Cendejas
A day in the life of a Customer Success Specialist at Scythe
---
After 15 years in landscaping, Vicente Cendejas knows firsthand the positive impact M.52 brings to the industry. Starting at Scythe as a Field Operator, he now thrives as a Customer Success Specialist, nurturing relationships and user experiences with our valued customers while solidifying Scythe's commitment to delivering exceptional service and support.
What does a typical day at Scythe look like for you?
As a customer success specialist at Scythe, I strive to maintain and nurture our relationships with current customers while ensuring that they receive the maximum value from M.52. As part of the Customer Success team, I contribute to the creation of new processes and guidelines that support our partners. This involves building strong customer connections and investigating and implementing best practices and plans that align with our customer's needs and expectations.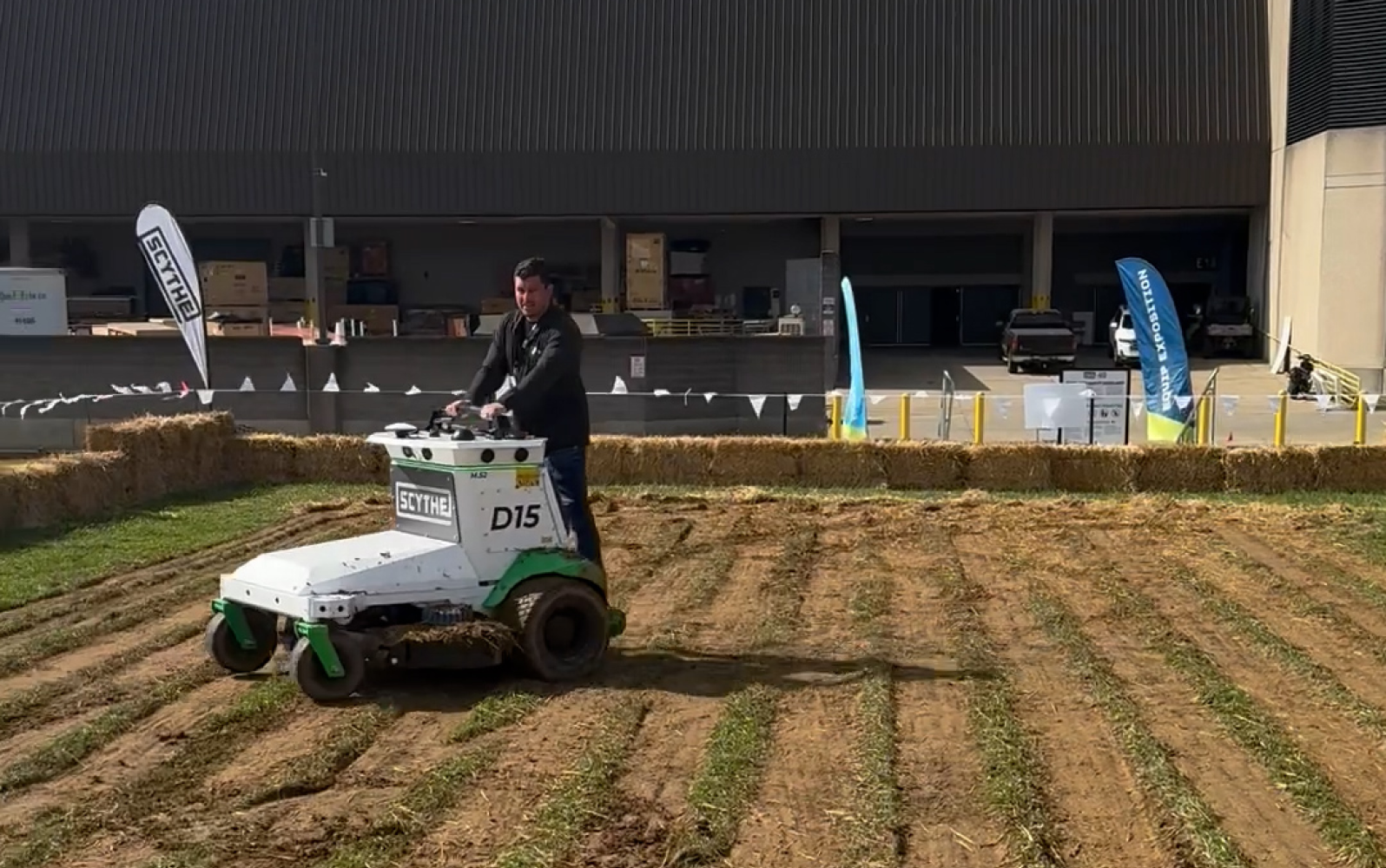 Vicente demoing M.52 for customers at the 2023 Equip Exposition
What is an accomplishment from your time at Scythe that you're most proud of?
One of my proudest achievements during my time at Scythe is how closely I worked with the team in advancing M.52 to its current state. With my previous experience in the landscaping industry, I was instrumental in evaluating and testing what was then our 2nd generation of the robot, internally known as Bighorn (and affectionately nicknamed "the microwave on wheels" by yours truly!). I collaborated closely with our engineering, software and mechanical teams to ensure that generation would not only meet the highest standards of performance but also make a meaningful contribution to the landscape industry.

The impact of our collective efforts on the company's overall success has been nothing short of inspiring. Witnessing how Scythe is driving positive change for our environment and working towards a brighter world for future generations has been a deeply gratifying experience. Over my 15-year career in the landscaping industry, I had seldom encountered technological advancements that simultaneously benefit the environment and address the industry's labor shortage. This achievement is not just a milestone for Scythe but a significant stride towards a more sustainable and promising future for all.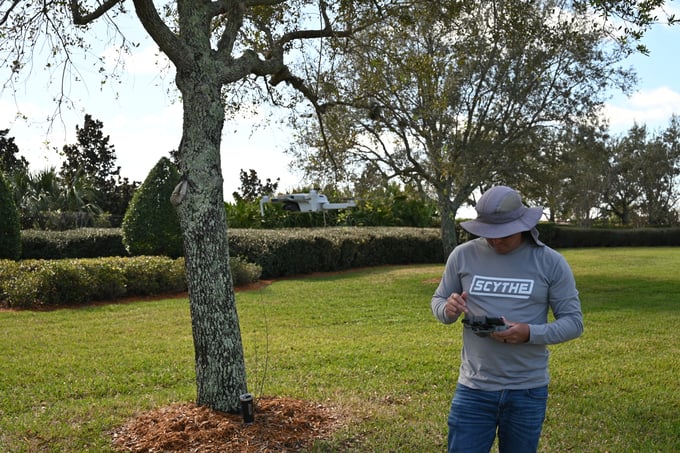 Vicente in the field recording M.52 performance with a drone
What does our mission at Scythe mean to you?
When I think of Scythe, the first words that come to mind are "innovation" and "humility." Everyday I witness Scythe's unwavering commitment to enhancing the landscaping industry through sustainable autonomous technology. One of Scythe's guiding principles is rather than displacing jobs, our approach is to empower businesses by optimizing their workforce allocation.
Seeing and experiencing these struggles first hand from my previous experiences in the landscaping industry, Scythe's mission fuels my daily dedication to the company and mission itself.
Integrating robots into the landscaping work environment doesn't mean job loss, instead it creates a harmonious synergy between productivity and efficiency. As a Customer Success Specialist, I take deep pride in fostering this synergy. I educate our customers on harnessing the full potential of our machines and collaborate crafting action plans to help maximize and streamline their operations.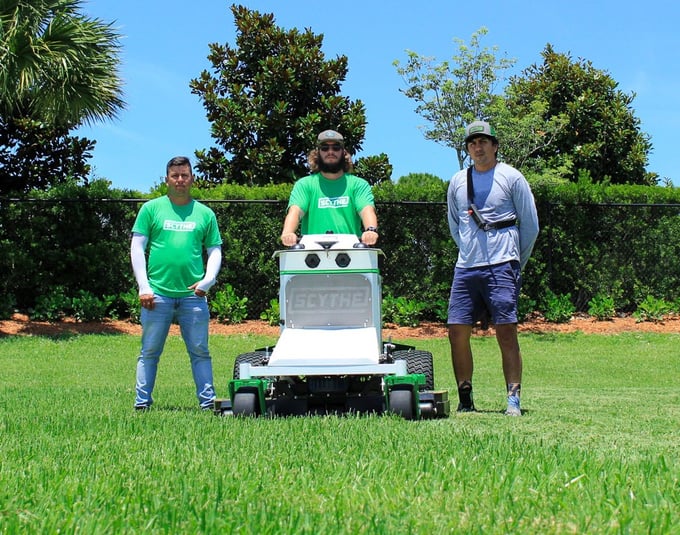 Vicente (left) back in his field ops days with our Florida Scythe team
How did you end up getting into Customer Success at Scythe?
My journey with Scythe began in 2020 as a Field Operator. After two years, I was given the opportunity to transition into the esteemed position of Customer Success Specialist. With 15 years of experience within the landscaping industry, from positions as a crew leader up to an accomplished account manager, I gained a wealth of experience that allows me to be confident and successful within my new role. My background equips me with the expertise needed to assist our valued customers and ensure they enjoy the M.52 experience, while solidifying Scythe's commitment to delivering exceptional service and support.
If you could build a robot to take care of any tasks in your daily life, what would you build it to do?
At Scythe, I get to witness firsthand the profound development and effects of automation and innovative robotics. If given the chance to create my own, I would create a robot that has the capability to not only collect recyclable items, but also generate materials that would prove invaluable to our city.
In the vicinity of the Scythe office here in Florida, there is a horrific mound of discarded waste that the locals refer to as "Mount Trashmore." This mound of trash has steadily expanded and is a looming environmental threat. My robot would serve as a catalyst for positive change, having the ability to craft materials suitable for essential items such as tables, chairs, and other resources that could be utilized by the local communities.
---
Offering a snapshot of life at Scythe, the Scyther Spotlight series showcases our team members and the work they do as we pursue our mission together. From software to hardware, manufacturing to customer operations, you'll get to see what our multi-disciplinary team members are up to and how they collaborate every day.