THE SCYTHE APPROACH
Partners in Growth
How Scythe's business model reflects our commitment to your success
---
Cultivating Growth
Growth sits at the heart of the landscaping industry. Landscapers literally cultivate the growth of the green spaces and communities around us. Our mission at Scythe is to cultivate the growth of the landscaping businesses doing this work.
That's why we're doing things differently, with both our mower and the way we offer it. We take a unique approach that aligns your objectives with ours to make growth a shared goal. Scythe's business model reflects our commitment to your success in three ways.
1. Pay-as-you-mow Pricing for Savings on Mowing Costs
We are rewriting the rules when it comes to pricing. Our pay-as-you-mow model is central to our shared goal of growth. Through usage-based pricing, you only pay for the acres you mow. No big investment to buy the machine outright and no monthly fee. This means we only grow when you do, making your business our priority.
The advanced sensors and GPS connectivity on M.52 are able to accurately calculate the acreage it has mowed. You only get charged for the mowing that's done, not the unproductive time when the mower is traveling from site to site or plugged in at the shop.
Just like you would bid any job, the price per acre for mowing with M.52 varies depending on complexity. An open field costs less than an HOA complex with many trees, obstacles and slopes, but either way we aim to save you 40% on your mowing costs through this approach.
Our pay-as-you-mow pricing model also makes the transition to electric equipment easier. Clients are demanding electric equipment and local governments are initiating gas-powered bans, but traditional electric mowers require a significant upfront investment. The all-electric M.52 helps you avoid those costs and still make the switch to a zero-emissions mowing fleet.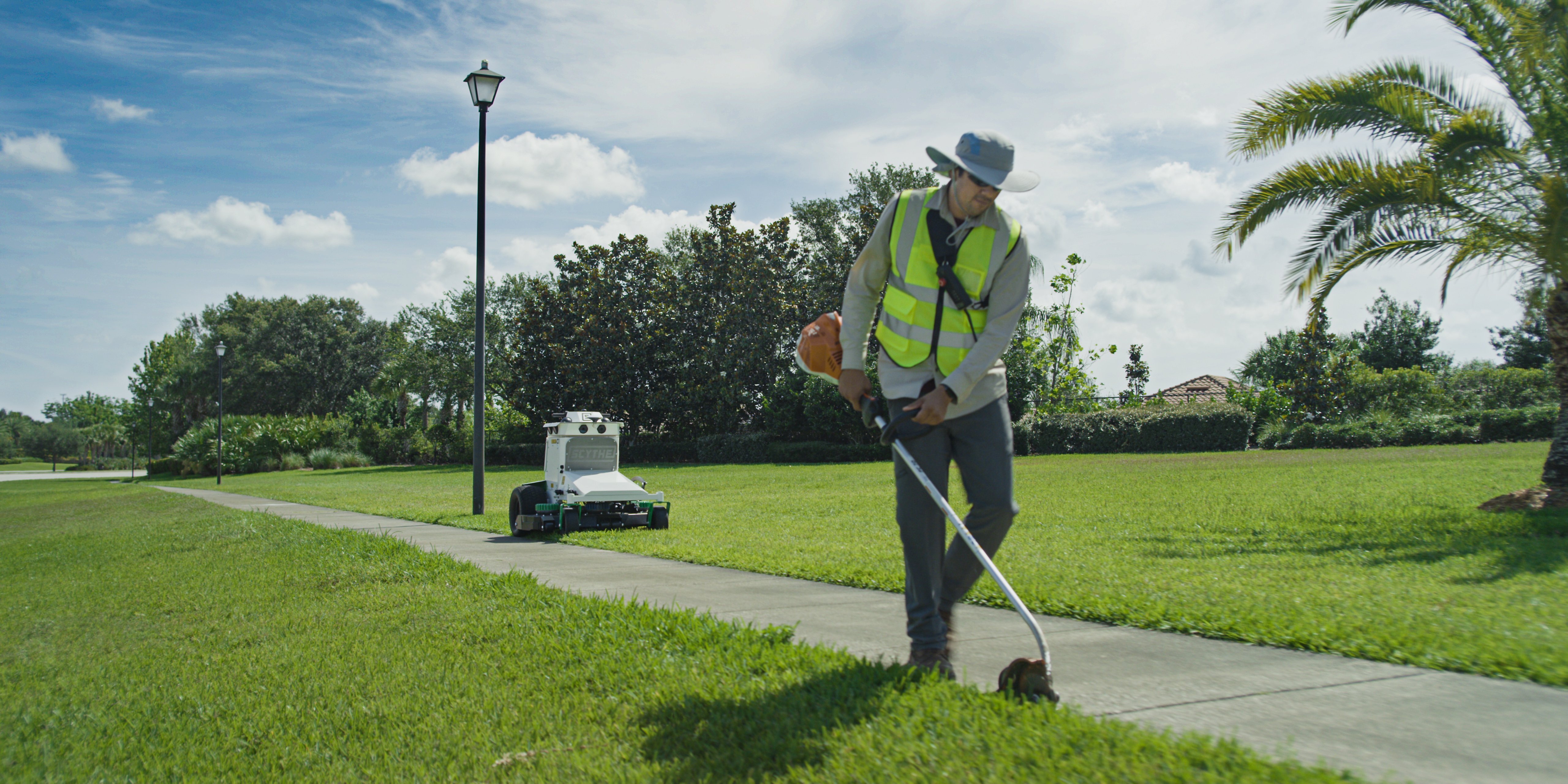 2. Zero-Downtime Guarantee to Keep Your Crews Mowing
With our pay-as-you-mow pricing, if your mower is down, so are we. That's why we've engineered M.52 for extreme durability and an extended lifetime that can keep your crews mowing and your business growing.
Right off the top, our all-electric design reduces the amount of repairs and required maintenance. There are no pulleys or belts to replace and no oil or filters to change. Your team only needs to keep the blades sharp, tires inflated, and battery charged. Scythe handles all the repairs and replacements beyond that so you can focus on getting the work done.
We also regularly share cloud-based software updates to continually improve M.52's mowing abilities. They automatically happen at night so they don't interfere with your operations or create any machine downtime.
Traditional equipment manufacturers and dealers make money when a mower breaks or needs replacing, so they are more incentivised by downtime than durability. Scythe M.52 is built to last longer and mow more because we want your business to do the same.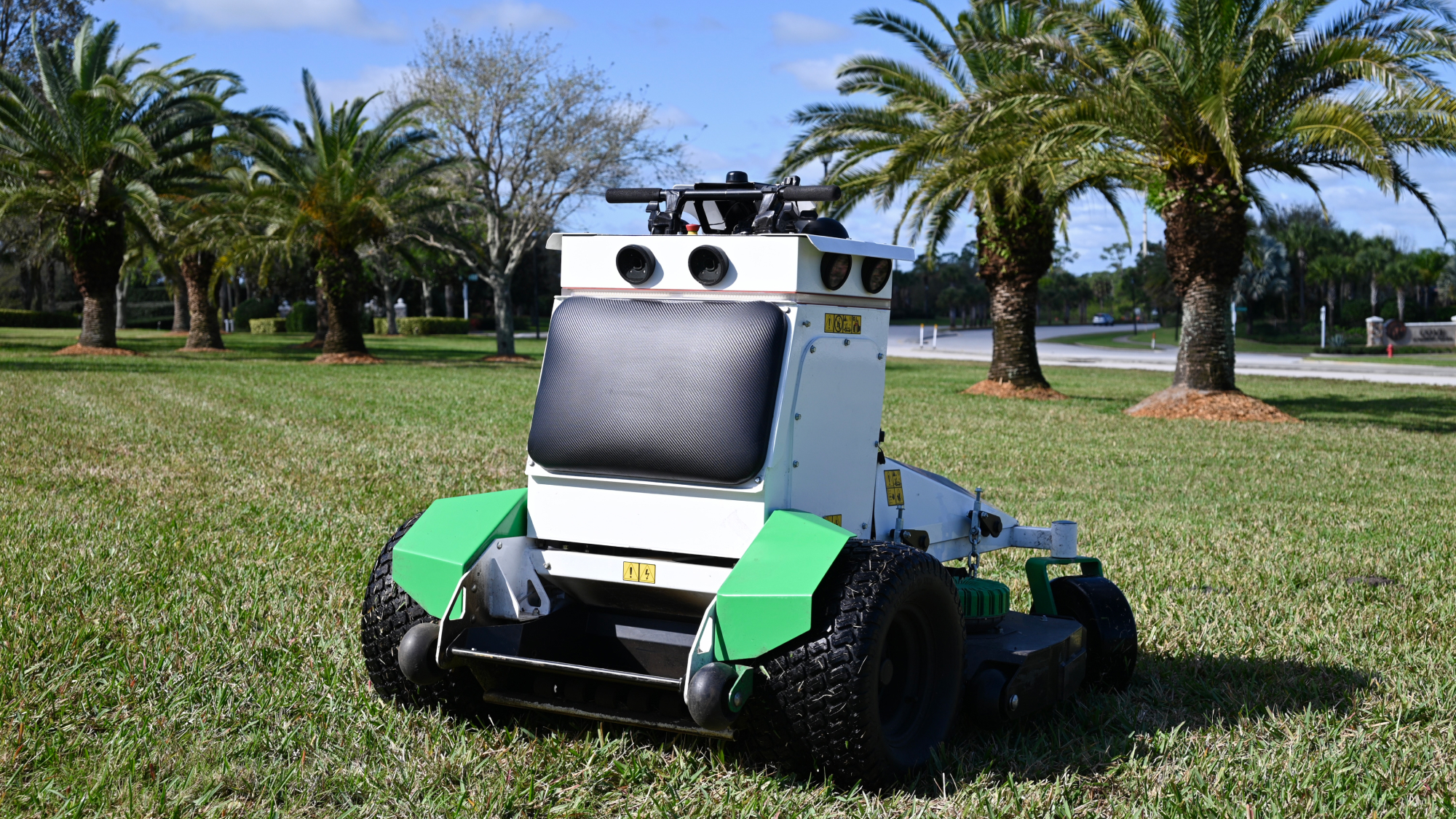 3. Field-level Data to Unlock Growth
M.52 can give you entirely new insights to help you grow your business. It collects valuable data that can make workflow on jobsites more efficient and profitable. It will be able to spot broken sprinkler heads, identify brown spots in turf that need treatment, and flag other service needs for your account managers to pitch to your clients. Field performance reports, detailed property maps, and more will help you unlock additional upsell opportunities.
We also have an open API philosophy for business software data sharing, allowing you to connect data from M.52 to your existing business management software platforms and use data from those platforms on ours. Since Scythe grows as you grow, we're eager for you to leverage this data in new systems that can take your business to the next level.
Our Goal? Your Growth.
The autonomous mowing Scythe M.52 can do is just the start of a transformation you'll see by partnering with us. Beyond the mower itself, we've built our business to fit into yours, driving our mutual growth and the growth of the green spaces we maintain together. Learn more about our approach at GetScythe.com.
---
The Scythe Approach
Offering a deep dive into its design, this is the final post in a four-part series explaining the pillars of our approach in developing Scythe M.52. Together these choices result in the most comprehensive autonomous mowing solution with better performance, greater durability, and increased productivity for landscaping crews.