SCYTHE LAUNCH
Meet Scythe Robotics
The Future of Autonomous Mowing
---
Sharing Scythe with the World
After three years heads-down, building in stealth, I'm very excited to share our progress at Scythe with the world! We are backed with $18.6M in funding from some of the best in venture capital: Inspired Capital, True Ventures, Zigg Capital, and Lemnos. Read on for where we came from, what we're up to, and where we're headed.
Nearly a decade ago, I was a Robotics PhD student, researching and developing the future of long-term robot perception and autonomy. Itching to build something impactful instead of continuing to publish papers, I left to start a 3D scanning company, Replica Labs. In 2016, we sold Replica to Occipital, a computer vision (CV) and spatial computing company here in beautiful Boulder, Colorado.
At Occipital, I led an amazing team building foundational technologies focused on visual SLAM, 3D scanning, and Mixed Reality, pushing the boundaries of positional tracking and scene awareness. I spent a lot of time thinking about all of the potential transformative applications for the remarkably powerful embedded computers and sensors that were becoming widespread — especially when coupled with the latest in CV techniques coming out of academia.
Back then, I spent hours each weekend mowing my lawn, not exactly my favorite activity. One weekend it dawned on me: by leveraging the technologies I worked with every day, automating this tedious, recurring chore was finally possible — even though none of the existing mower manufacturers seemed to be offering a solution. The combination of robust SLAM algorithms, automotive grade cameras, and low-power, embedded supercomputers was ushering in a new era of robotics, and mowing seemed like a hugely valuable application for it.
The idea wouldn't leave me alone for weeks. I reached out to the two guys with just the right skills for pulling this off: Davis Foster and Isaac Roberts. Davis, then a 21 year-old talented and scrappy Electrical Engineer teammate of mine at Occipital, and Isaac, my former Replica cofounder and a hustle-till-you-drop serial entrepreneur who had grown up around the landscaping industry, were skeptical but intrigued. We dove deep on the market, learning not only that turf grass (aka lawns) covers 40M acres of the US, but that the industry was suffering from an extreme and chronic lack of interested labor. Even with over one million workers employed in landscaping, every business we spoke with complained immediately about not being able to recruit enough workers to grow their business.
The more we looked, the more opportunity we saw for automation to enable growth in this $105B industry. We learned mowing was about 40% of the labor across jobs, but while contractors had to do it to win a job, it was incredibly low-margin. Beyond mowing, we saw that there were a whole set of tasks, from aerating and leaf blowing to trash pickup and fertilizer application, that could leverage the same autonomy to do even more for landscape professionals. To top it all off, I have loved the outdoors since I was a kid and try to spend as much time outside as possible, so to be able to improve how effectively and sustainably humanity cares for outdoor spaces resonates strongly with me.
It seemed clear to us that we had found a "goldilocks" opportunity: a giant market that Isaac could build strong customer relationships in, paired with a highly nuanced and technical problem that Davis and I could address with our hardware and software skills—one that was solvable in a matter of years, not decades. We knew that no retrofit, slapped-on solution would ever survive the tough life these machines have, and that instead, we would design an autonomous mower from first principles, not subject to the constraints of existing designs. By going all-electric, for instance, we eliminate mower air and noise pollution, while also creating a simpler, more robust and longer lasting machine than ever before. And so we started Scythe to build the autonomous, commercial-grade mower that would actually solve landscaping's challenges and forever change how humanity cares for Earth.
Three Scythe co-founders, and their robot.
Building the Machine
Our team has built an amazing mower that continues to get better every day. Because we've designed and built all the hardware and software, we're able to tightly integrate them to achieve incredibly high performance. As an organization, Scythe leans hard into the cross-disciplinary nature of robotics – a typical day sees Mechanical Engineers discussing designs in small teams with computer vision scientists to ensure optimal sensor positions, or cloud developers working with bot operators to make sure we can aggregate and display the right metrics to quantify the machine's performance in the field. Full-stack, cross-disciplinary teamwork is at the core of how we build.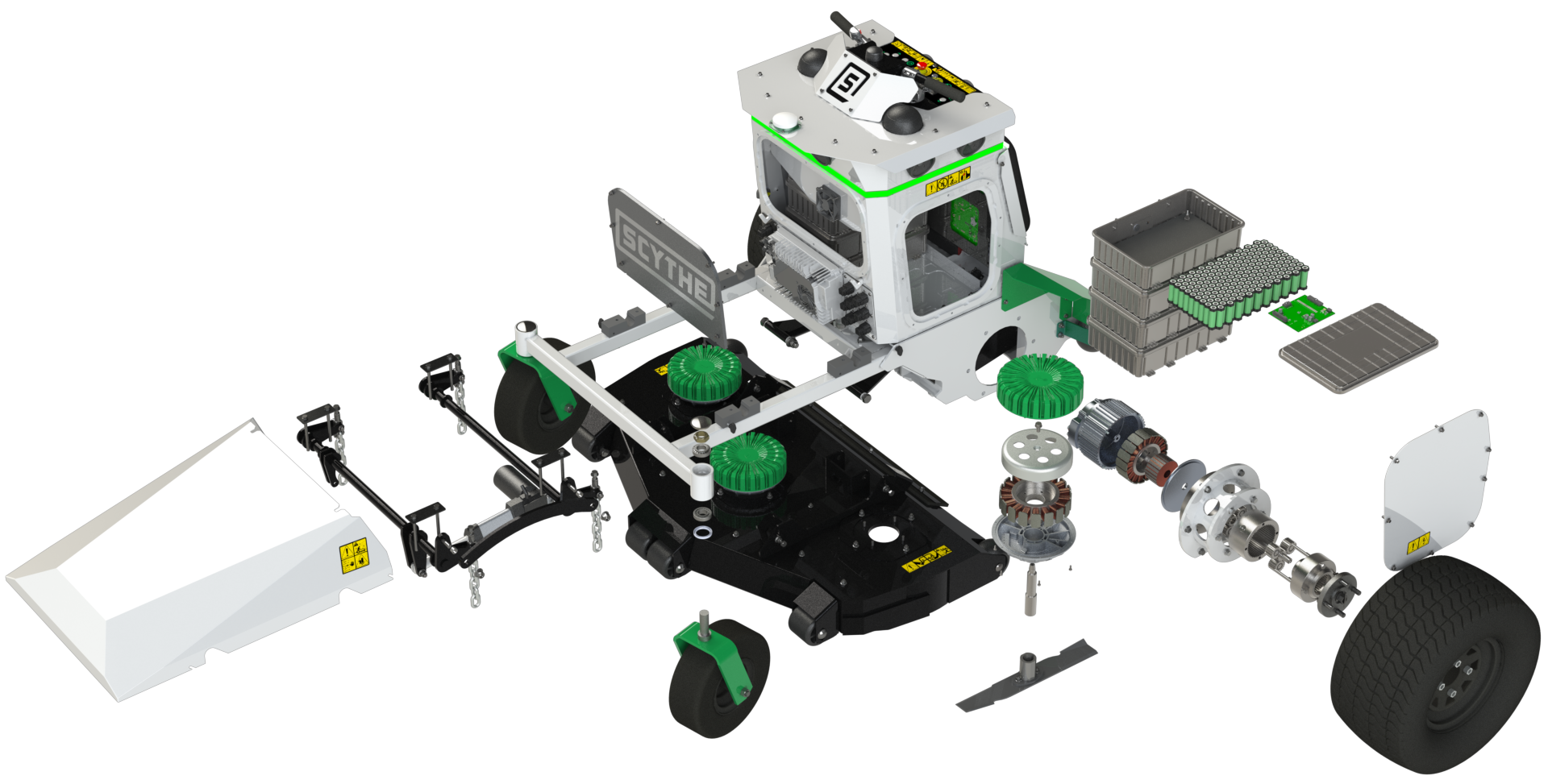 Exploded view of the robot that we designed from the ground-up
Mowing in unstructured environments is a complex task that requires best-in-class robotic perception. That's why we've invested heavily in our Scythe Seeing™️ vision system, bringing together the best parts of geometric and machine learning-based vision technologies to allow our machines to navigate fully autonomously through tricky off-road environments. Scythe's bots have been out in the field mowing for over 2 years now and have gathered over a million images of unique scenarios, crucial for training our advanced machine learning systems.
Our experienced software team at Scythe has also made an uncommon, principled decision to write all of our on-robot software (where feasible) in the Rust programming language. Rust is a fairly new entrant to programming languages but is having an outsized impact on the safety, reliability, performance, and development pace of software across domains. These characteristics are critical for autonomous machines and are very hard to meet with the legacy languages used in robotics, C++ and Python. Our from-scratch Rust platform lets us build faster and with far more confidence.
We've built a best-in-class obstacle planning and avoidance system, from the ground up.
Impact
Mowing is a huge fraction of commercial landscaping work, but it is just our initial focus at Scythe. More broadly, we want to reimagine how humanity cares for this planet. We've had an amazing response from commercial landscape professionals across the country, with many of the largest contractors pre-purchasing Scythe machines to lock in early access to their new superpower. As we grow our mower deployments and move into automating more outdoor tasks, we have the potential to solve the industry's dire labor crisis and enable huge growth across landscaping.
Scythe's potential for impact extends far beyond just productivity gains. By replacing fossil-fuel guzzling outdoor power equipment with emissions-free, autonomous, electric equipment, we are able to reduce the noxious air and noise pollution frequently associated today with landscaping maintenance work. Research has measured that 1 hour of gas-powered mowing can produce the same air pollution as driving a car over 350 miles, making electric equipment a massive improvement for the industry and the environment.
By lowering the maintenance costs for open outdoor areas, Scythe's autonomous solutions can also help spur the growth of healthy, carbon-sequestering and city-cooling green spaces. Research has shown that by increasing urban tree canopy and green space worldwide, humanity could reduce total building HVAC-related CO2 emissions by over 500 megatons annually. And not only that, increased green spaces have been shown to positively affect the mental and physical well-being of those who live and work around them. We're excited about our greener urban and suburban future in our own communities and beyond.
Looking Ahead
With this latest funding, Scythe is moving quickly ahead towards production of our autonomous systems. Today's Scythe customers have been invaluable assets in our development process, providing wisdom, feedback, and testing environments to put our machines through the toughest challenges. We look forward to quickly ramping our production to meet their needs.
We are excited to grow our team with new Scythers who are passionate about changing and growing humanity's ability to take care of the world around us. We have a team of 30 today, with experts across disciplines from mechanical and electrical engineers to cloud and machine learning software engineers. We're headquartered just outside Boulder, Colorado with offices in Austin, Texas and Vero Beach, Florida and are hiring across our team in all three locations and remotely.
Come help build Robots for a Greener World.
Meet the Scythe team